The vision of Kickstart is to empower entrepreneurs to develop a vibrant entrepreneurial culture that acts as a driving force for social, environmental and economic benefit.
Meet some of our KickStart Entrepreneurs...
Lenette Lewis - Sageroots
Sageroots makes natural body and home products that are good for people and even better for the planet. It's one of the only businesses in the BVI offering eco-friendly and locally made product lines.
In the Sageroots lab, Lenette and her three co-founders use locally sourced ingredients to handcraft the products, which are currently sold in Clover's – a store in Road Town.
Lenette and her co-founders started Sageroots in August 2012 – since then, they've made 4,000 sales, and gathered 200 regular customers. The products have been featured in several magazines, including Marie Claire USA.
In 2015, they started a brand refresh process which will be launched in Spring 2017. This refresh involves new retail locations, products, packaging and initiatives that Sageroots believes will help to be the solution to one of the BVI's biggest problems – waste disposal, particularly the disposal of glass. At the moment, too much glass goes to the already heavily burdened incinerator.
With its rebrand, Sageroots is creating a 'pass the glass' initiative, which will offer discounts to customers who return their Sageroots glass containers. This will reduce the incidents of glass damaging the incinerator, and means Sageroots can sanitise and reuse containers, reducing their costs and pass the savings on to their customers. It also allows their brand to continue to work in harmony with nature…the way it was intended.
Learn more about Sageroots here, you can also follow them on Facebook, Twitter and Instagram.
Alex Dick-Read, GroundSea Adventures BVI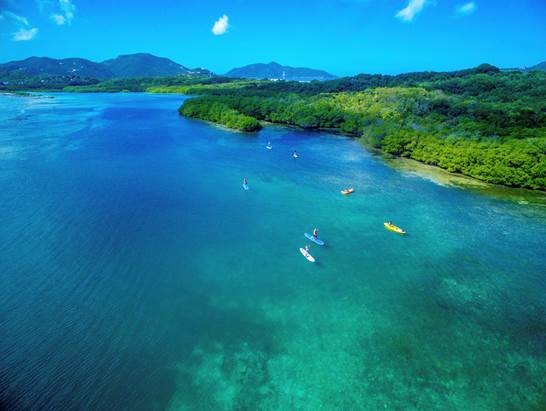 Alex Dick-Read has been a partner in the very successful Surf School BVI for four years, and has launched an eco tour and outdoor experience business.
Alex has his sights on some truly unique paddling tours and hikes, but for now he's focused on his brilliant magic mangrove tour around Beef Island's Hans Creek. This
mangrove lagoon is the last on Tortola, and it's full of young fish, baby sharks and stingrays. He offers two-hour tours on double kayaks or stand-up paddle boards; the excursions are easy and family-friendly, and allow visitors of all fitness levels to see the wildlife, enjoy the peace and talk to a local about the BVI's natural landscape. For decades, a planned development on Beef Island has been forestalled by court cases, but the threat to this substantial area remains. By bringing eco tours to the area, GroundSea Adventures is proving that there's value in keeping it pristine.
It's a similar story with the hikes Alex has up his sleeve. His long-term plan is to instigate a programme of trail building, headed up by the older generation who once worked the land, alongside with young people who want to learn more about it.
Alex takes school and community groups into the mangroves, where they'd never usually go. Little by little, he's educating people about the wonders on their doorstep. His aim is to inspire a passion among young BVIslanders to advocate for the protection of the beautiful environment. His vision is to train and employ all local tour guides.
Kelvin Fahie - A Place Where Healing Begins
Kelvin caught our attention by offering something we really need in the BVI – addiction counsellors. He is a therapist himself – one who recognises that addiction and mental health disorders are interwoven. Kelvin understands that common mental health disorders are often triggers for alcoholism and drug use, and this is at the heart of how he works.
Rather than focusing on the presenting symptoms (the addiction), he takes a holistic approach so he can make a comprehensive assessment, focusing on the individual's emotional responses to the world around them. That way, he can develop a treatment plan that's much more likely to work.
He proposed 'A Place Where Healing Begins' – a counselling service that recognises depression and addiction as co-occurring disorders. Here, Kelvin's goal is to stop the cycle of disease, by getting to the root of it.
According to conservative estimates, every dollar invested in addiction treatment saves $4-$7 in reduced crime. When you add that to the savings related to healthcare, savings exceed costs by 12 to 1 (source: Drugabuse.gov).
Plus, with Kelvin's help, an individual is less likely to be involved in conflicts, will be much more productive at work, and will have fewer drug-related incidents in the future.
Terri Benjamin, Chic Gourmet
Chic Gourmet is a bakery and food shop that creates and sells vegan, gluten-free, raw and low-calorie goodies. Owner Terri caters to every allergy and intolerance you can think of. Plus, she provides health and nutrition coaching, and 'plant-based' classes and workshops. She says: "We take a holistic approach to the wellbeing of our clients through food – we're the healthy, tasty, alternative!".
Chic Gourmet has been successfully trading for several years and there are few other local businesses on the islands currently offering what Terri does. Now, she's ready to grow. She currently employs four people but her growth strategy indicates she could employ lots more in the next few years.
This means more jobs for local people. But Terri also works with the planet in mind – she sources produce from farmers who practice sustainable organic farming methods, by not using pesticides or chemicals. Her customers appreciate the quality of her ingredients – they're willing to spend a little more to know their dinner's coming from a good place.
In the future, Terri plans to incorporate eco-friendly packaging and to increase the number of nutrition workshops she offers – particularly those designed for young people affected by food-related health issues, like diabetes.
Meet Our Alumni Entrepreneurs
We also have a number of alumni entrepreneurs who have previously recieved loans to help grow their businesses, these include: